PARK OR PRIVATE DRIVING AND CONCOURS D'ELEGANCE EVENTS
The essence of Park, Private Driving and Concours d'Elegance events is to recreate the romance and elegance of bygone days. Drivers may use one or more horses driven in a vehicle suitable for private purposes. It is an opportunity to display the many rare and beautiful vehicles of which members are so proud.
NB. Most events of this type today also have classes for business turnouts and vehicles built in more recent times.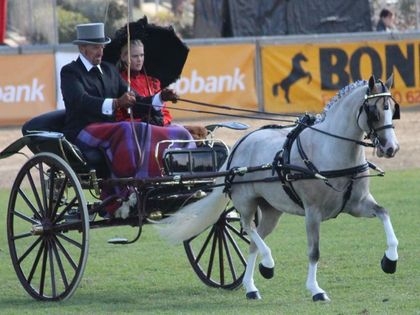 PARK DRIVE
Competitors will present to the judge/s one at a time for an individual inspection and point score. They will be asked for a brief show workout
before setting out on a short drive through the streets or park. Horse/pony must be well-behaved in traffic, walk in the walk section and stand calmly where necessary eg Stop lights, road markings, traffic etc. In the first phase the workout is judged on both reins with the Judge looking for of Position driver, attire and driver's ability.
Presentation of the horse or pony.
The second phase is judged during the drive out, and the Judge is looking for: Paces, transitions and obedience.Position of driver, whip and handling of the horse/s.
General impression.
ACDS Show Driving Handbook © 16 2nd Edition, July 2012
Points System for a Park Drive Ring Workout (to be judged from the circle) or Individual workout 10
Driver and passengers (position, attire and driver's ability) 10
Horse/Pony (presentation) 10
Harness 10
Vehicle 10
General Impression10
SUB TOTAL 60
Drive Horses (paces, transitions and obedience) 20 Drivers and passengers (position, whip and handling horse/s) 10
General Impression 10
SUB TOTAL 40
TOTAL POINTS 100
PRIVATE DRIVE
Private Driving classes in England are open only to amateur owner drivers.The meaning in Australia is somewhat different
and there is no rule regarding ownership. An Australian Private Drive is an event where competitors are first judged on their turnout at the halt. They then go for a fairly substantial drive preferably between 5–15 km, during which another judge observes them. On completion they are again judged, but only briefly. Scores from each judge are added together to determine the winner. The speed on the drive should be set at a
fairly leisurely working trot. It is not meant to be a speed event, but more a pleasure drive. Private Drives are often called Park Drives in
Australia so that potential competitors do not think it is 'invitation only'. They are aimed at pleasure drivers and period turnout drivers. The classes below have evolved to cater for most members of harness clubs.
CLASSES FOR PARK OR PRIVATE DRIVES
1. Authentic Period Turnout – historically correct Vehicle: original or restored, wooden wheels Harness: leather Costume: authentic and matched in time and nature to the vehicle
2. Period Style Turnout – full dress-up class for those not eligible for Class 1Vehicle: reproduced, restored or original Harness: leather or synthetic Costume: giving the impression of the 'olden days'
3. Traditional Turnout – show, CDE or pleasure turnouts Show – as for a sulky or buggy turnout at a show CDE – can be presentation turnout or marathon turnout Pleasure – as for a pleasure turnout at a show
4. Jogger Turnout – period style or traditional turnout Vehicle – pneumatic tyred, two-wheeled Viceroys are not suitable vehicles for Private Drives so are not included.
Multiples (pairs, tandems, teams) are eligible in any of the classes alongside singles. Horses and ponies compete in the same classes together and times on the drive would need to be adjusted to suit different heights.
JUDGING POINTS FOR PARK/PRIVATE DRIVES
At the halt
Class 1: Authentic Period Turnout and Period Style Turnout
Horse 20
Vehicle 25
Harness 15
Costume 25
General Appearance 15
TOTAL POINTS 100
ACDS Show Driving Handbook © 17 2nd Edition, July 2012
Class 2: Traditional Turnout Show and Pleasure
Horse 50
Vehicle 30
Harness 10
General Appearance10
TOTAL POINTS 100
Class 3: CDE Turnout
Horse 50
Vehicle 30
Harness 10
General Appearance 10
TOTAL POINTS 100
Class 4: Jogger Turnout
As above in whatever category is deemed appropriate by the organisers. On the move The Judge sits where all competitors will pass at least once – preferably about half way through the drive.
All classes (1-4):
Horse (eg obedience, impulsion, road manners) 20
General Appearance (eg vehicle balance, driver holding whip, position of driver/passengers, overall appearance of the turnout) 20
TOTAL POINTS 40
At the finish Judging should be done as soon as the horse crosses the finish line.
All classes (1-4):
Horse (eg appearance of coat, fitness) 10
General Appearance (eg condition/cleanliness of harness and vehicle, overall appearance of whole turnout) 10
TOTAL POINTS 20
GRAND TOTAL OF POINTS 160
Three judges would be ideal. However, it may be more practical for the Judge at the halt to do the finish judging as well. At some events, turnouts are only judged at the halt and then on the move, with no 'finish' judging
CONCOURS D'ELEGANCE EVENTS
Concours d'Elegance events in Australia are designed to promote an appreciation amongst the general public of horse drawn turnouts and the finer points of carriage restoration, harness and appropriate dress. They can have great spectator appeal especially when held in
a park or vineyard, in front of a gracious home, on a racecourse or in an indoor or outdoor arena. Evening events are also popular, especially when lamps are lit.
The following three classes generally form the basis of a Concours d'Elegance program, but organisers are free to vary (and add) classes according to local conditions.
1. Period turnout – authentic or faithfully restored carriage with wooden wheels, leather harness
2. Period style / traditional turnout – reproduction carriages with wooden or steel wheels, leather or synthetic harness.
3. Heavy horse turnout Guidelines:
* Each class is open to singles and multiples.
* Two judges are preferable to one.
* Competent stewards are needed to check that the competitors are in the correct class (eg check for steel wheels, synthetic harness etc) before they come before the judge/s.
* It is important to make the judge/s aware that a Concours d'Elegance Event is not judged as a show or turnout class in the accepted sense. It is more a parade of beautifully presented turnouts, with the awards going to the most elegant and appealing. The judge/s should be looking at the overall picture, rather than fine detail.
* Competitors should be expected to complete a drive of some distance eg 1 – 5km in the event, with both walk and trot sections eg a drive through a park, a vineyard, quiet streets, around a racetrack or showground arena. They should commence their drives at least 3- 5 minute intervals.
ACDS Show Driving Handbook © 18 2nd Edition, July 2012
* Judging should be done 'on the move' and the judges positioned separately where they can observe the on the move both at the trot and walk.
* After all competitors have completed their drives, they should drive together briefly in front of the judges
on a large circle. This gives the judges an opportunity to make their final decisions.
* Presentation of Awards: After all the classes are completed, turnouts assemble in a picturesque spot for the announcement of awards and presentation of sashes and prizes to the winners and placegetters. All other competitors should also receive sashes for their participation. A parade with sashes on should then take place in front of spectators.